What's new in this release?
Content Hub
GDPR Data Protection Changes 
Key Metric Page update
Content Hub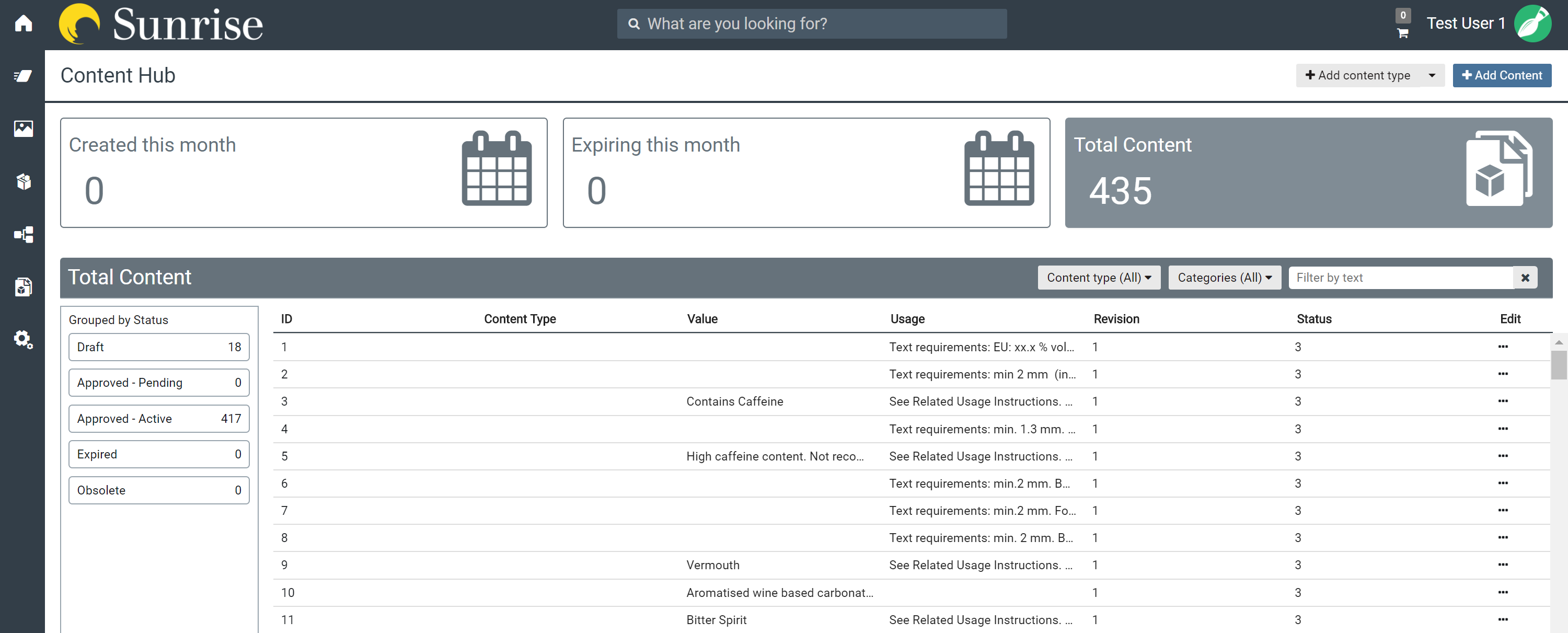 Sunrise is proud to announce the launch of Content Management which will be made available to our "pro" customers as part of their standard package and to "core" customers as a paid add-on.
Content Management will help drive both quality and consistency throughout the entire creative process across multiple platforms, including both printed and electronic media by providing a centralised hub where any copy; marketing or regulatory, text or images, can be stored, translated, approved and used again and again throughout your entire asset portfolio. 
Every decision taken by contributors, reviewers and approvers is time-stamped and easily searchable. 
Designed to support both Marketing and Packaging Development processes users can quickly and reliably collate the latest approved content from a range of sources, create automated copy documentation for external agencies, or push through to eCommerce platforms.
In this release, the Content Hub will be made available.
The Hub is the centralised location allowing users to view, sort and manage their organisation's entire content library. We'll be rolling out additional features over the next few weeks to allow for the collation of content, management of version and automatic pack copy / content documents. 
GDPR Data Protection Changes 

The EU General Data Protection Regulation (GDPR) designed to harmonise data privacy laws across Europe and to protect and empower all EU citizens data privacy rights, come into effect in May. 
Ahead of the new regulations, we're making a number of changes to Sunrise to make it clear how your contact informed is shared and used. You'll be asked to review your profile information, and now have an option to withhold your information from both other members of your organisation and linked organisations.
This setting can be changed at any time from your profile page. 
Key Metric Page Update

Workflow Assignments are now more clearly displayed. Where listed we now include the users relationship to the workflow, so it is easier to tell if the user is Responsible, Accountable, Consulted or Informed. 
Bug Fixes
Resolved problem whereby the Complete Consultation button is not displayed where the same user is asked to provide consultation more than once.
Fixed display issue found with the contact and asset pickers in regression testing
Fixed issue where comment icon was not showing previously saved comments on the Linked Activity page.
Resolved security issue preventing standard users from uploading or viewing assets in certain libraries.
Fixed issue preventing an organisation's administrator from correctly amending decision trees. 
Fixed issue preventing events (SOAP, REST or Email) from being added when a workflow instance is edited. 
Fixed issue preventing additional tasks from being added to workflow when edited.
Fixed issue preventing the priority from being added to workflow when edited.
Resolved issue with resizing widgets on the homepage.
Resolved issue where asset revision number is not always incremented when the file is uploaded via the WebAPI. 
Fixed issue preventing approval classifications from being edited.
Fixed display issue with Product File.
Fixed search indexing issue for Products.
Additional Patch - 2018.04.13.2 13th April 2018
Resolved Error 400 & 500 exception when workflow create messages are received from SAP.
Resolved Display issue with a users contact card, when not consenting to share their personal data.
Fixed issue with AssignmentCompletedMessage throwing NullReferenceExceptions.
Fixed issue where the WebJob Dequeue Count was exceeding maximum limit