Introduction:
The purpose of this guide is to explain how to use the My Activities page.
My Activities Explained:
If you want to know what all the running projects are that you have been assigned to, go to My Activities. Under 'My Activities', you can see your projects
You can view My Activity either through the Activity Icon or from the Widget on your Homepage.
The My Activities section will display all Activities and the Current Status which you have been assigned to (where you are assigned to at least one task in any RACI capacity).
Activities will remain on this page whilst they are running or paused. They will be removed when completed or canceled.
A link is provided in the Activity column to open the Activity - see here.
The Parent Activity field identifies the name of the higher level associated Activity. Often, this is referenced as the Project level.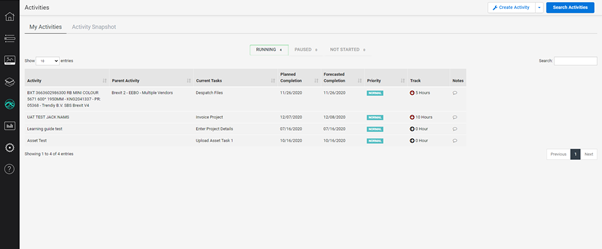 Navigate between pages to view all Activities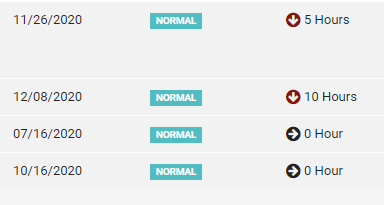 Increase the number of Activities displayed on each page

Use the Search box to refine the list of Activities by entering keywords or digits from the Activity, Parent Activity or Current Tasks columns.
Viewing Paused Activity in your Activities Page
When an Activity is paused, any running tasks within that Activity will also be paused. By default, paused tasks are not visible in your task list. To view paused tasks simply turn on the 'PAUSED' toggle within your task list.
Tip: when viewing paused tasks, turn off all other toggles to ensure that you are only viewing paused activity (as shown in the image below)

Viewing Not Started Activity in your Activities Page
When an activity hasn't started yet it will display here under the 'Not Started' tab. Once the activity has been started this will display in the running activity.