Introduction:
This guide is to show how to complete a form and explain the various actions that can be taken.
Completing a Form:
If you are required to complete a form, you will find the task in your task list.
From the Navigation bar, click the Tasks button or click the Tasks widget on the Homepage / Dashboard
'Form' tasks can be identified by a form icon on the left side of the task

Click the link in the Task column to open the form for completion
Complete any required details within the form
Click the Complete button located at the top of the form
Note: Required/Mandatory Fields are identified with an asterisk (*)

Save Draft: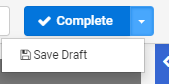 The Save Draft button is available while completing the form. Should you be partway through completing the form and do not have time to complete it, click the Save Draft button and then you can navigate away from the form. On return to the form, the previously entered data will be visible. Continue to populate and then complete the form.
'Multiple':

If a form has been set as a 'multiple' form in the Activity template, you will see the option to 'Add More' at the top of the window. This will create multiple child activities (Packaging items) - you can view these created children/ Packaging Items in linked activities.

Tabular View:

The Tabular button is always available but only applicable when completing multiple activities in one screen. This is applicable when multiple activities share the same parent activity (multiple SKUs in the same project). (more details)
Rich Text in Forms:
Any field that is in a text box format can be converted to a rich text format. Please speak with the professional services team if you would like this switched on.