Introduction
A Role is a shared level of responsibility that can be assigned to multiple users. A Role must be assigned a Security Level to determine the functions that can be performed by users that are added to that role.
See Role Security Levels for further details including a list of actions that can be performed by a Role with each of the Security Levels.
Who can create and edit Roles?
Roles are created and edited by any user that has the Domain Admin or Security Admin security level for that domain.
How many Roles can I create for my Domain?
There is no limit to how many Roles a Domain can administer however it is advisable to limit Roles to an amount that is manageable and which fits within your business processes.
Every domain is given a list of Default Roles. These are listed below. Default Roles can be edited and deleted if required.
| | | |
| --- | --- | --- |
| Role | Security Level | Description |
| [Domain Name] Administrators | DomainAdmin | Default Role for managing Domain Settings and Domain Connections |
| [Domain Name] Security Administrators | Securityadmin | Default Role for managing Users, User Roles and Asset Libraries |
| [Domain Name] Workflow Users | WorkflowUser | Default Role for completing work and access to search all activities in the domain to which the role is administered. |
| [Domain Name] Users | User | Default Role for completing work in the system. Users with this role cannot perform a global search within the domain and only has access to asset libraries that have been made visible to the role. |
How many Roles can be assigned to a User?
You can assign as many Roles to one user as required. For example, a user may be a 'legal representative' but also may be a 'user role administrator'. In this example, the user would have two roles:
Role Name: Legal Representative

Role Name: Project Manager

Security Level: Activity Manager
How do I know which Role I have?
Follow the steps below to find out which Roles you have been assigned.
Click on your profile picture at the top right corner of the window to display your Profile Menu
Next, click Account
Within My account, click the Account Info tab
Your assigned Roles are listed and displayed against the Domain to which those Roles belong and are administrated.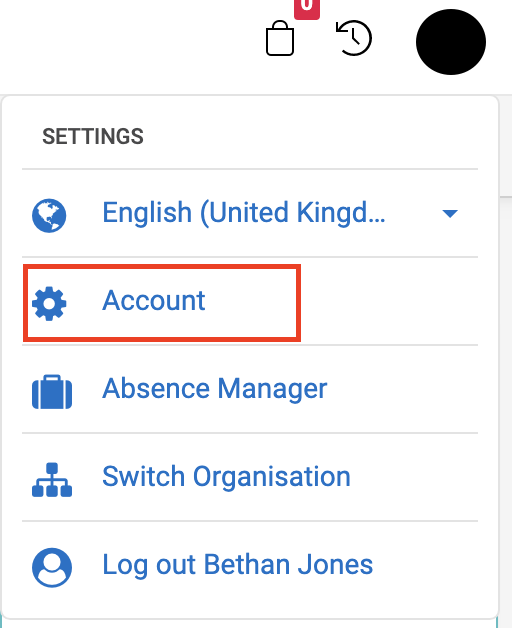 Can I belong to a Role administered by another Organisation?
It is possible that an administrator from another Domain (Organisation) has added you to a role within their own Domain. The Domain to which each role belongs is listed 'Account info' section of your user profile settings.