What's New?
Better placement of secondary actions
Improved alignment of the edit task button
Stability, Performance improvements & Bug Fixes
Better Placement Of Secondary Actions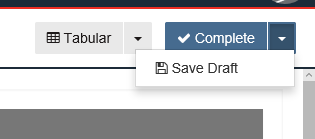 We've modified the location of secondary actions so that they appear under the relevant primary or secondary function.
So for example, the option to "Save Draft" is now located under the "Complete" primary function.
Improved Alignment Of Edit Task Button

Updated the positioning of the Edit Task icon, so that on lower resolution screens and tablets line breaks are no longer inserted.