Introduction
Much like your email out-of-office auto-reply, the Absence Manager can be used to transfer work assigned to you during your absence.
Note: Any work outstanding (currently on your task list) will not be transferred automatically. These tasks must be transferred manually - See Transfer Tasks for further details.
Absences can be managed in your profile menu:
Click on your n

ame

at the top right corner of the window to display your profile menu
Click the

Absence Manager

button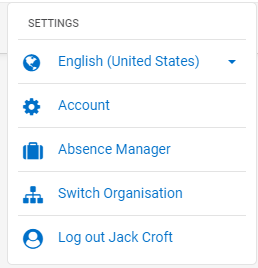 The Absence Manager is displayed showing any active absences.
Adding a new absence
Click the Add Absence button
In the Deputise to the field, select the user to receive any work assigned to you during your absence
Enter the Start and End dates of your absence (inclusive dates)
Select a Reason from the drop-down.
Further Comments are not mandatory but may be helpful for you as a personal note if adding multiple absences.
Click Save Absence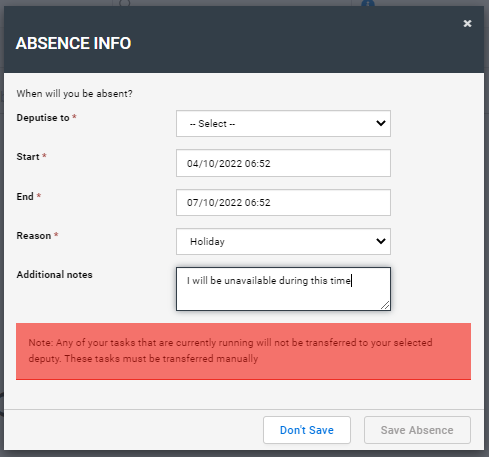 Viewing and Editing Absences
Any current (active) absences will be listed in the Absence Manager. These can be edited or deleted as necessary.
To Delete an absence, click the drop-down arrow on the Edit button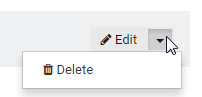 Note: Tick Show Past Absences to view previous/expired absences.
Please click here to see Team Absences.